Version 5.8.4 - June 2023
Copyright © 2023 Inverse inc. / Alinto
Permission is granted to copy, distribute and/or modify this document under the terms of the GNU Free Documentation License, Version 1.2 or any later version published by the Free Software Foundation; with no Invariant Sections, no Front-Cover Texts, and no Back-Cover Texts. A copy of the license is included in the section entitled "GNU Free Documentation License".
The fonts used in this guide are licensed under the SIL Open Font License, Version 1.1. This license is available with a FAQ at: http://scripts.sil.org/OFL


This guide will walk you through the installation and configuration of Microsoft Outlook for a better integration with SOGo through the use of the CalDavSynchronizer addon.
Prior going over this guide, you should have a working SOGo installation. Please refer to the SOGo Installation and Configuration Guide for more information on installing and configuring SOGo.
The instructions are based on version 5.8.4 of SOGo.
Outlook CalDav Synchronizer is an open source addon for Microsoft Windows Outlook. It synchronizes events, tasks and contacts between Microsoft Outlook and CalDAV or CardDAV servers. Supported Outlook versions are Outlook 2007 to Outlook 2016. Together with other open source solutions like SOGo, a full open source Microsoft Exchange server replacement for desktop users is finally possible and enterprise ready. Outlook CalDav Synchronizer is Free and Open-Source Software (FOSS) , licensed under AGPL3 and developed by
The project source and binaries for installation are hosted on GitHub and SourceForge or can be downloaded from caldavsynchronizer.org
Alinto (http://alinto.com) offers professional services around SOGo to help organizations deploy the solution and migrate from their legacy systems.
The most important features are
Open Source, the only free Outlook CalDAV and CardDAV addon

two-way-sync

support for CalDAV calendars and tasks, CardDAV contacts

support for Google native Contacts and Tasks API

full support for timezones and recurring events with exceptions

SSL/TLS support, support for self-signed certificates

proxy support

Autodiscovery of calendars and addressbooks

configurable sync timerange filter

time-triggered-sync and sync changes from Outlook immediately

Category Filtering (sync CalDAV calendar/tasks to Outlook categories)

map CalDAV server colors to Outlook category colors

Use server settings from Outlook IMAP/POP3 account profile

Mapping of Distribution Lists to SOGo VLIST contact groups

Configurable mapping of Outlook custom properties
Download and extract the OutlookCalDavSynchronizer-<Version>.zip into any directory and start setup.exe. You can change the default install path, but you need to use a directory on the C:\ drive. Follow the instructions and restart Outlook after the installation is finished.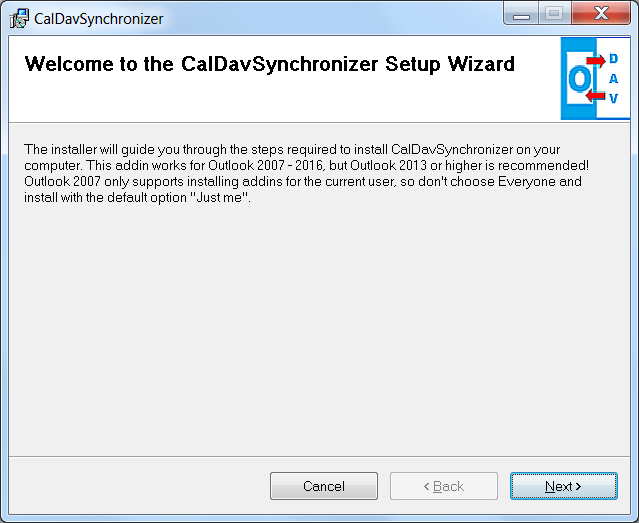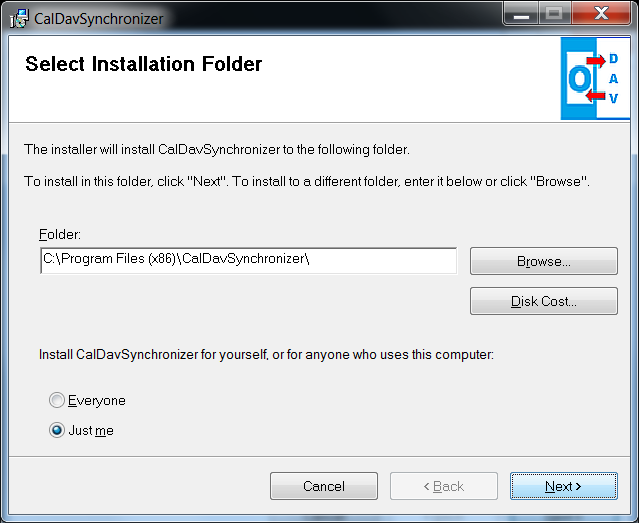 Next, you will see a ribbon CalDav Synchronizer in Outlook and can add synchronization profiles for you SOGo calendars, addressbooks and tasks.

In the Synchronization profiles dialog, press Add new profile if you just need to synchronize one resource or Add multiple profiles if you need to synchronize multiple calendars, addressbooks or task folders.

Next, select the SOGo profile type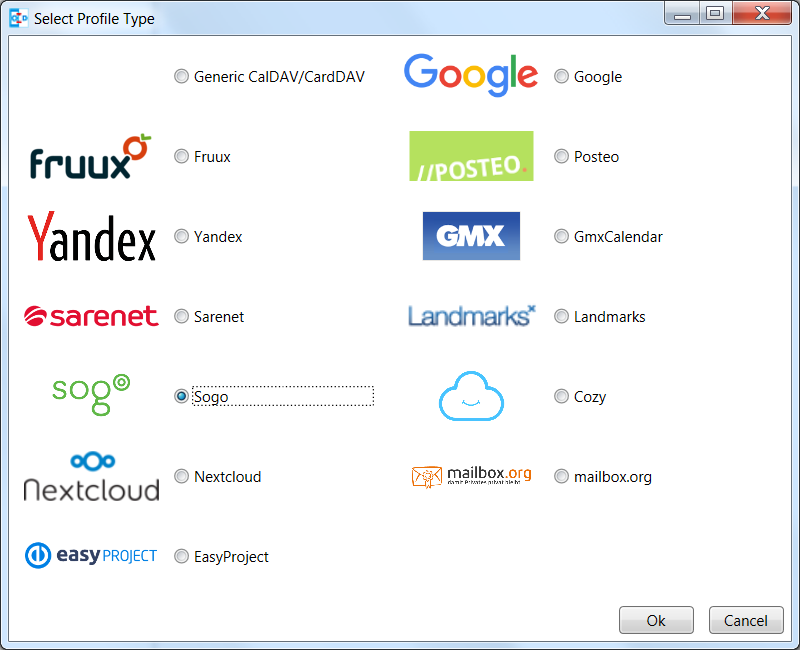 In the multiple profile setup dialog you can configure the details of the sync profiles.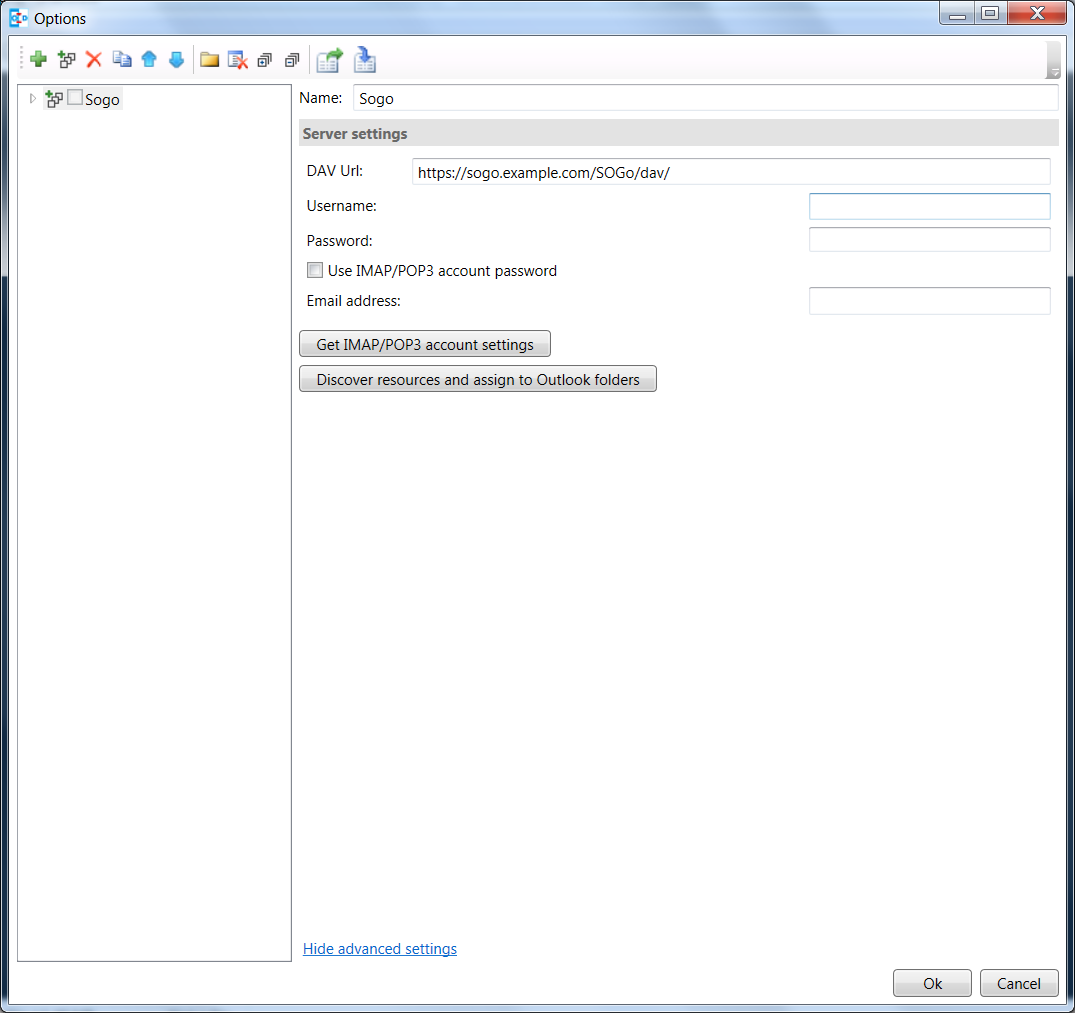 First, you should change the profile name and configure the server settings, the DAV URL is prefilled with the default SOGo DAV path and you should only change the hostname of your SOGo server, enter Username and Password. If you also have configured an IMAP account and your domain supports autodiscovery using DNS SRV records you can also try to fetch the server settings from your existing mail account in Outlook by pressing Get IMAP/POP3 account settings. If successful, username and password will be used from the existing mail account and the DAV URL will be discovered. If all server settings are configured press Discover resources and assign to Outlook folders to start the autodiscovery of all server resources.
You can assign Outlook folders to found calendar, addressbook and task resources in the three tab views.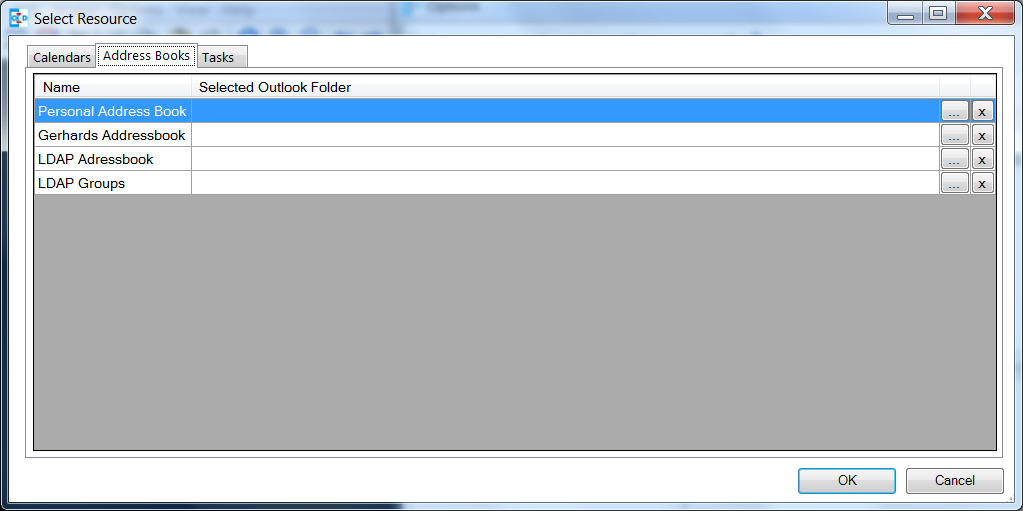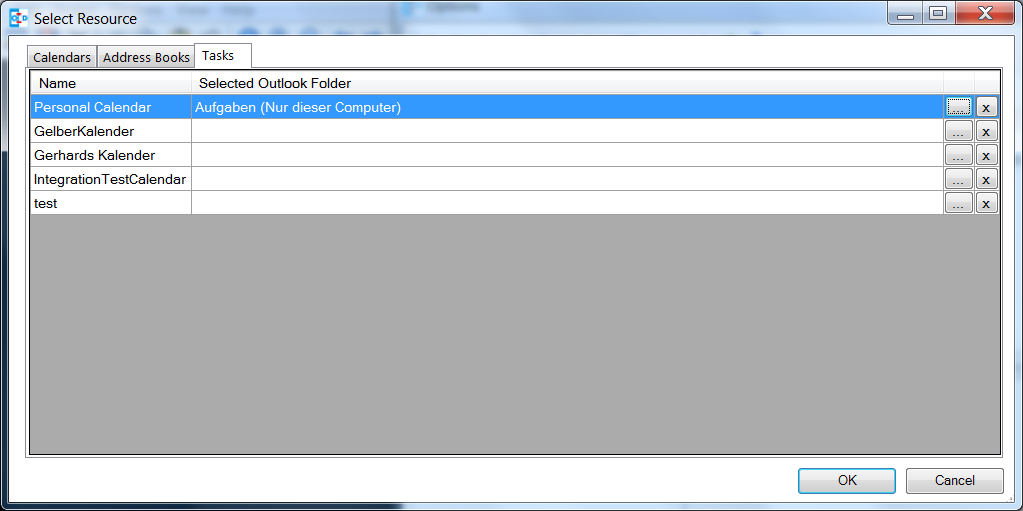 To assign a folder click on the "…​" button for the corresponding resource and either choose an existing Outlook folder or create a new one in the folder dialog.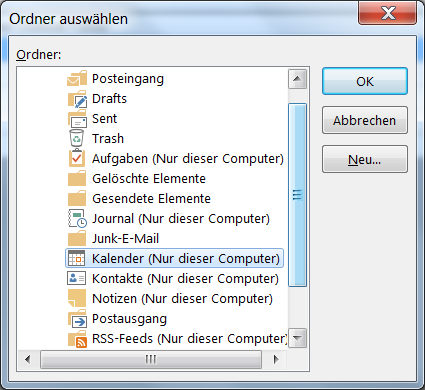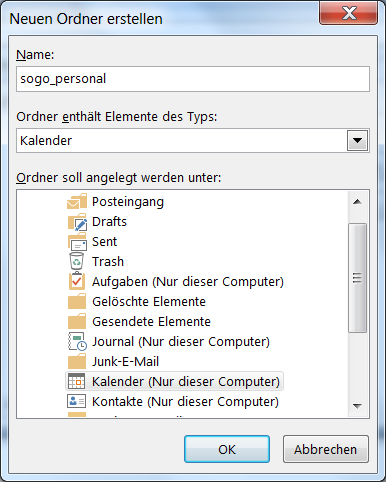 If you chose Add new profile for only one resource you can also choose the Outlook folder and dependent on the folder type you will create a calendar, addressbook or task profile.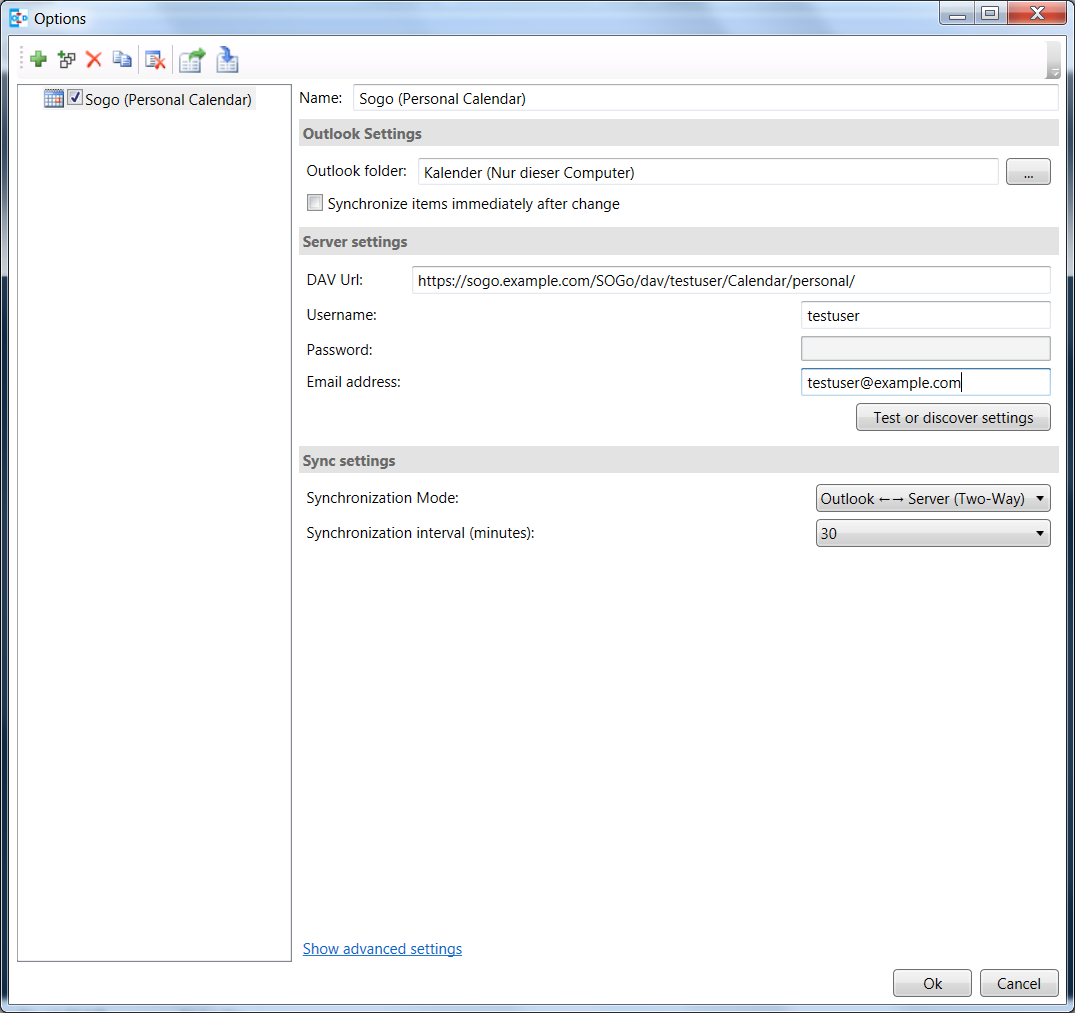 Furthermore, you can configure sync settings and intervals or keep the default settings which are automatic Two-Way-Sync every 30 minutes for all events from 60 days in the past to 365 days in the future.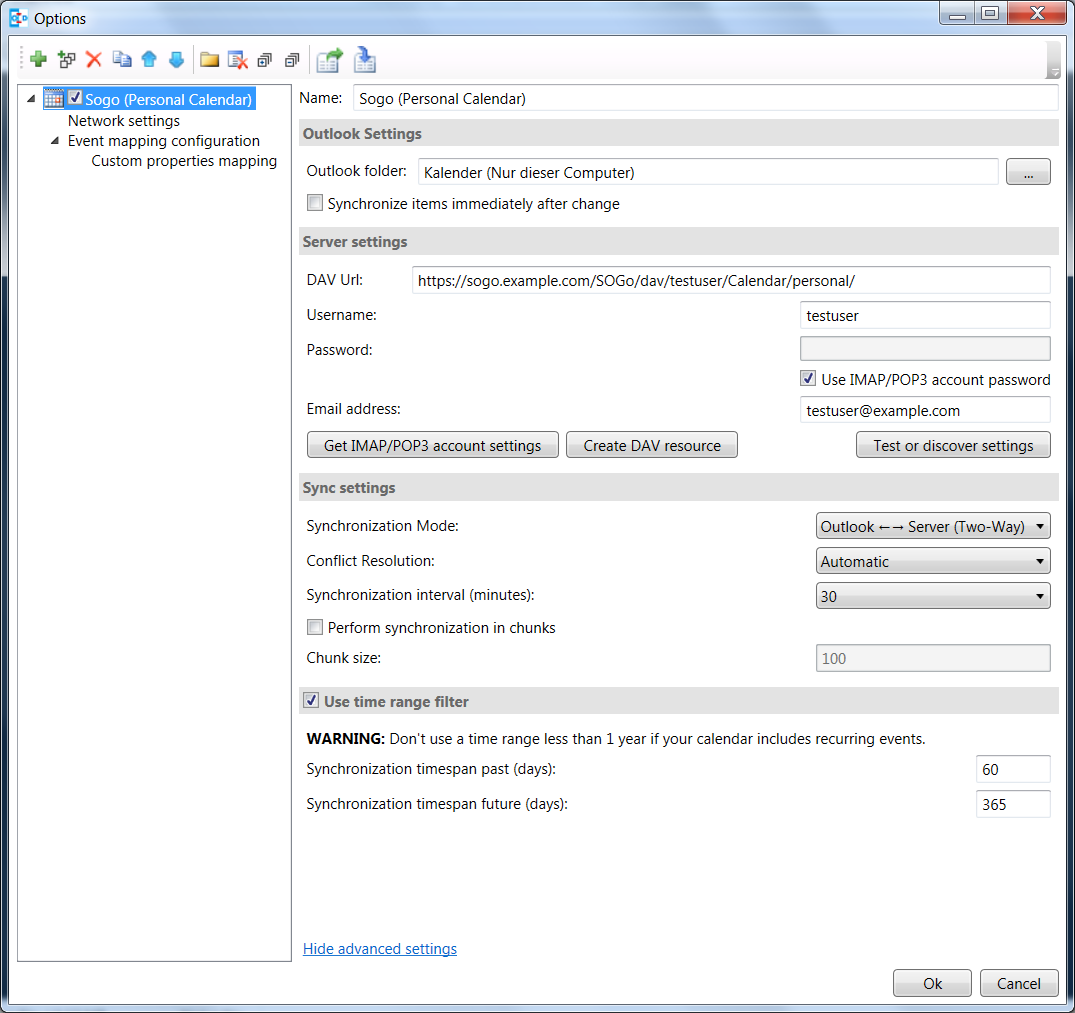 For addressbooks, the profile setup is similar, just choose an Outlook contacts folder for synchronization.
If needed, you can configure network and proxy options or special mapping configuration parameters in the corresponding option pages.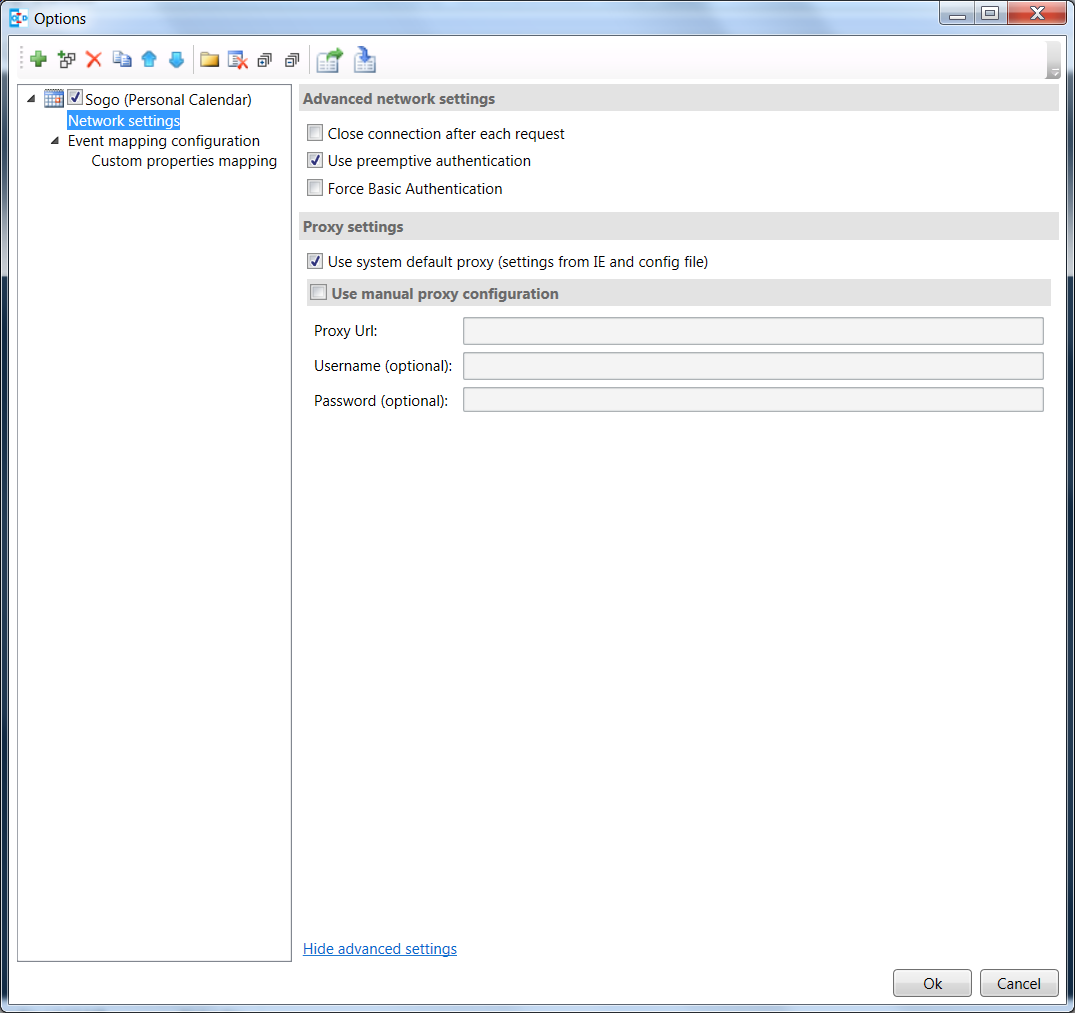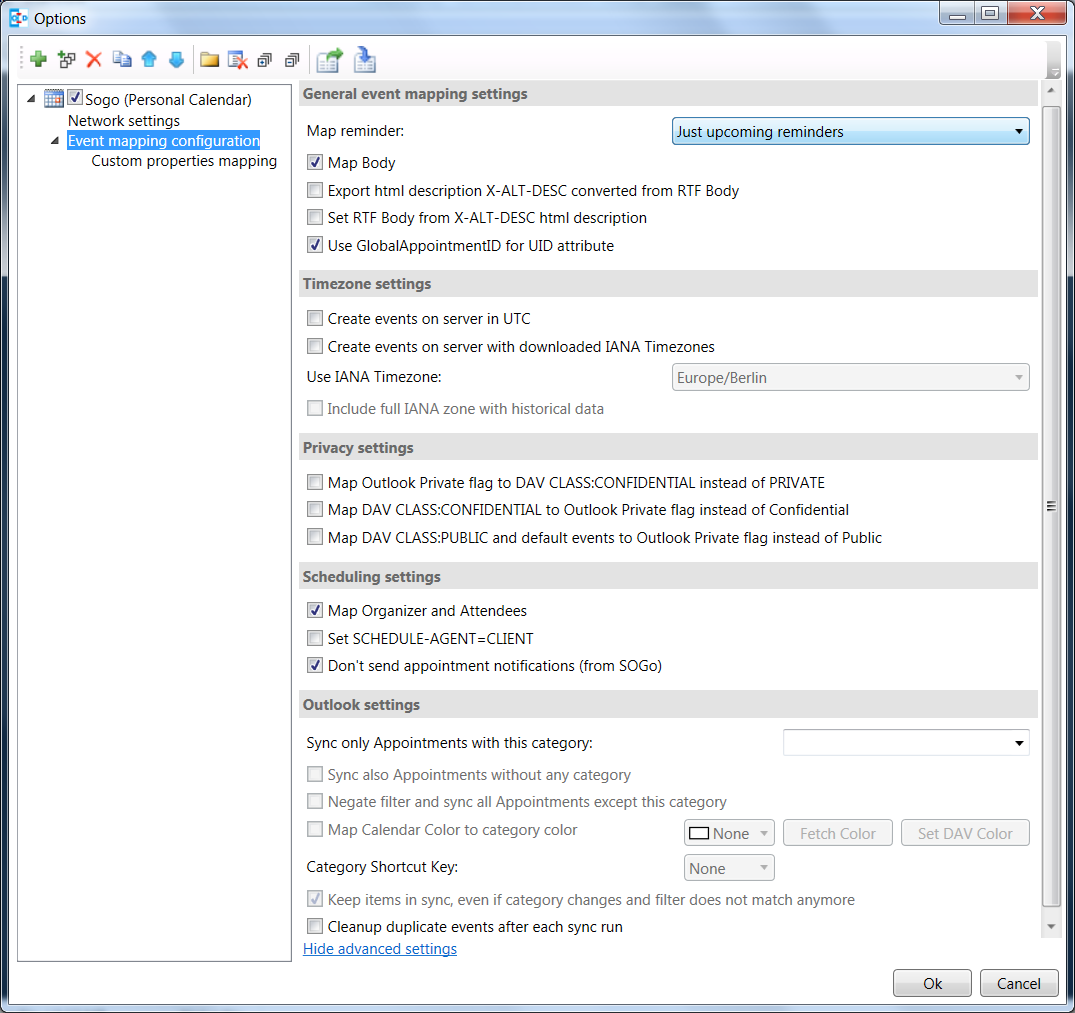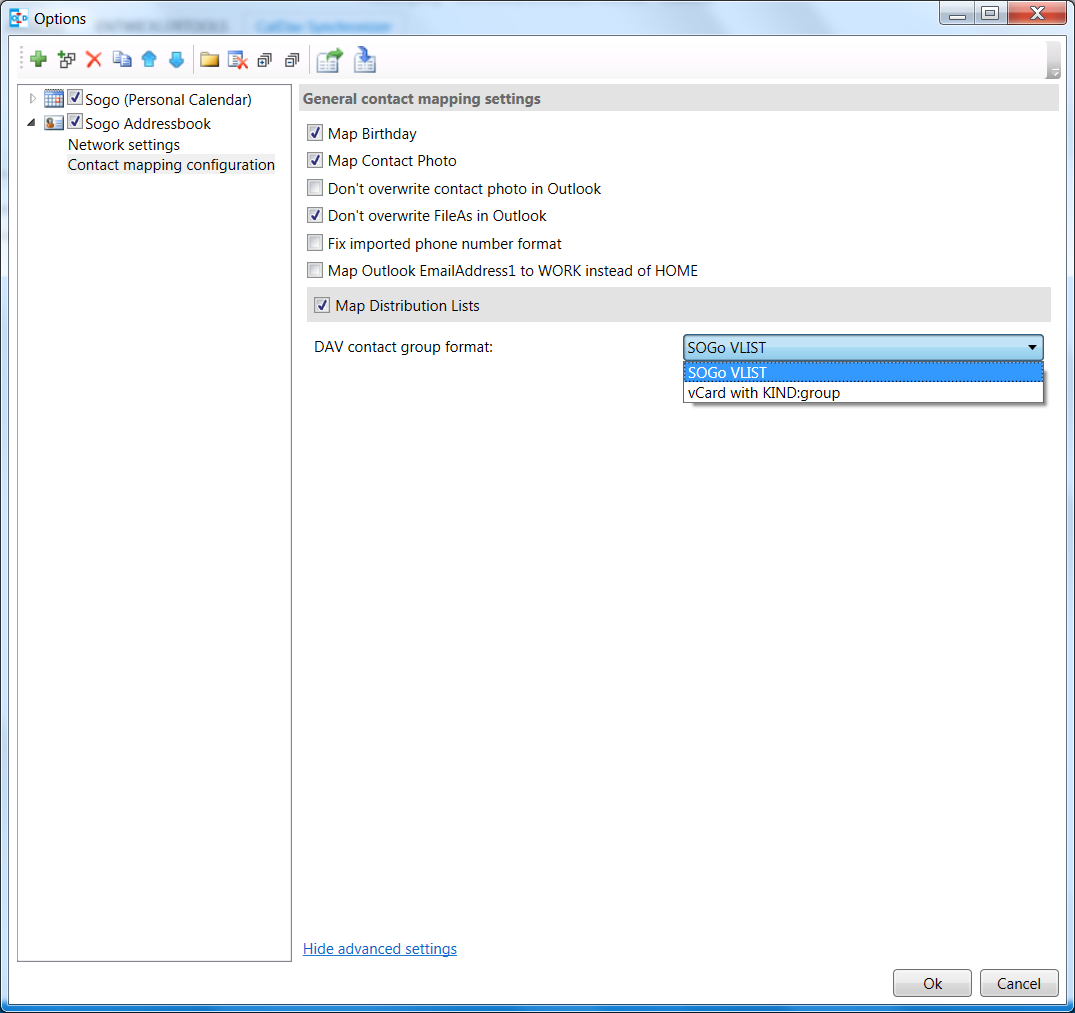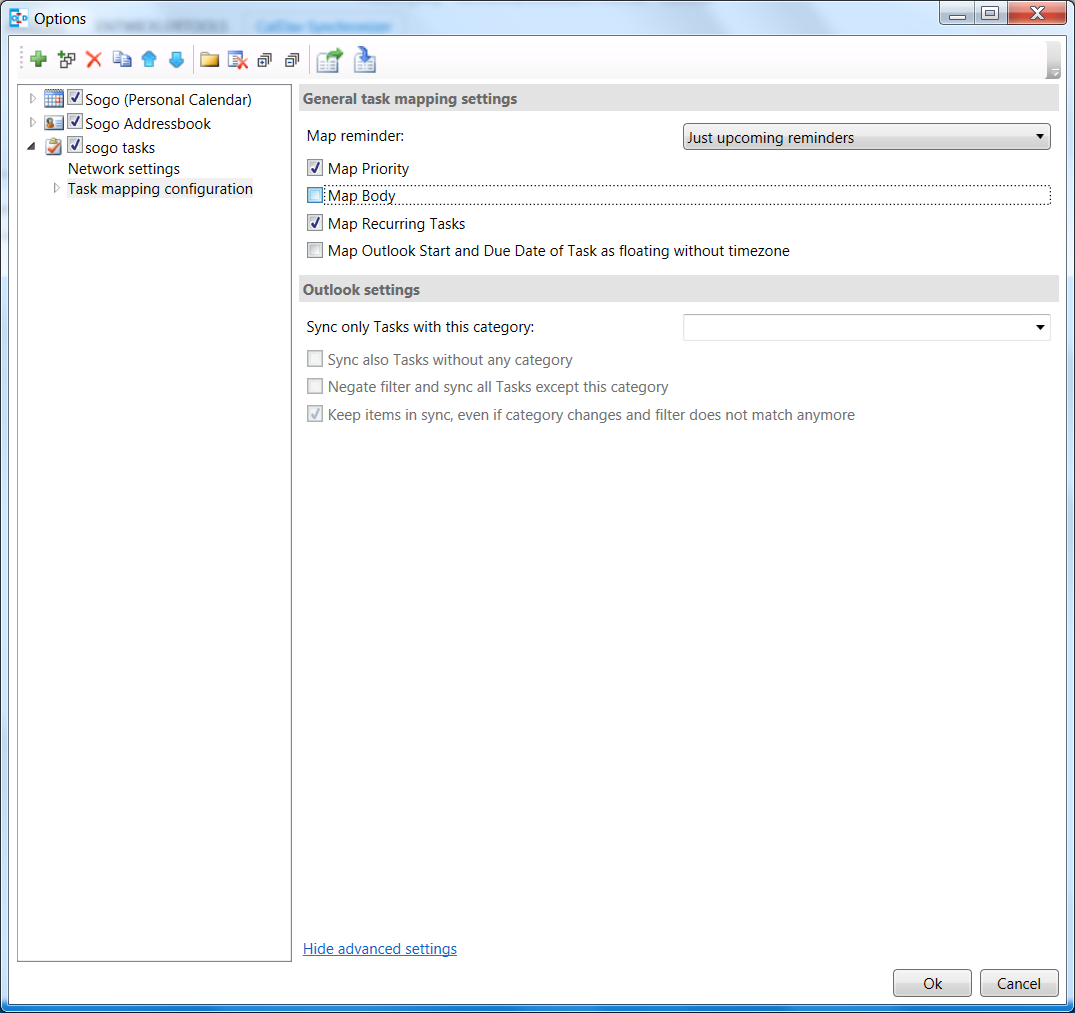 See Advanced settings below for a detailed description of all available options.
After the configuration of the sync profile is finished you can start the synchronization with pressing Synchronize now in the CalDav Synchronizer ribbon and your Outlook resources will be in sync with your SOGo resources.
You can check the status of the last sync runs with the Status button in the ribbon.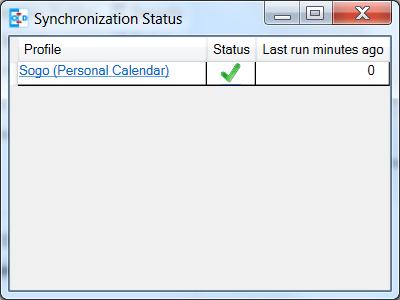 Should there be any errors or warnings during synchronization, you can check the Reports in the ribbon.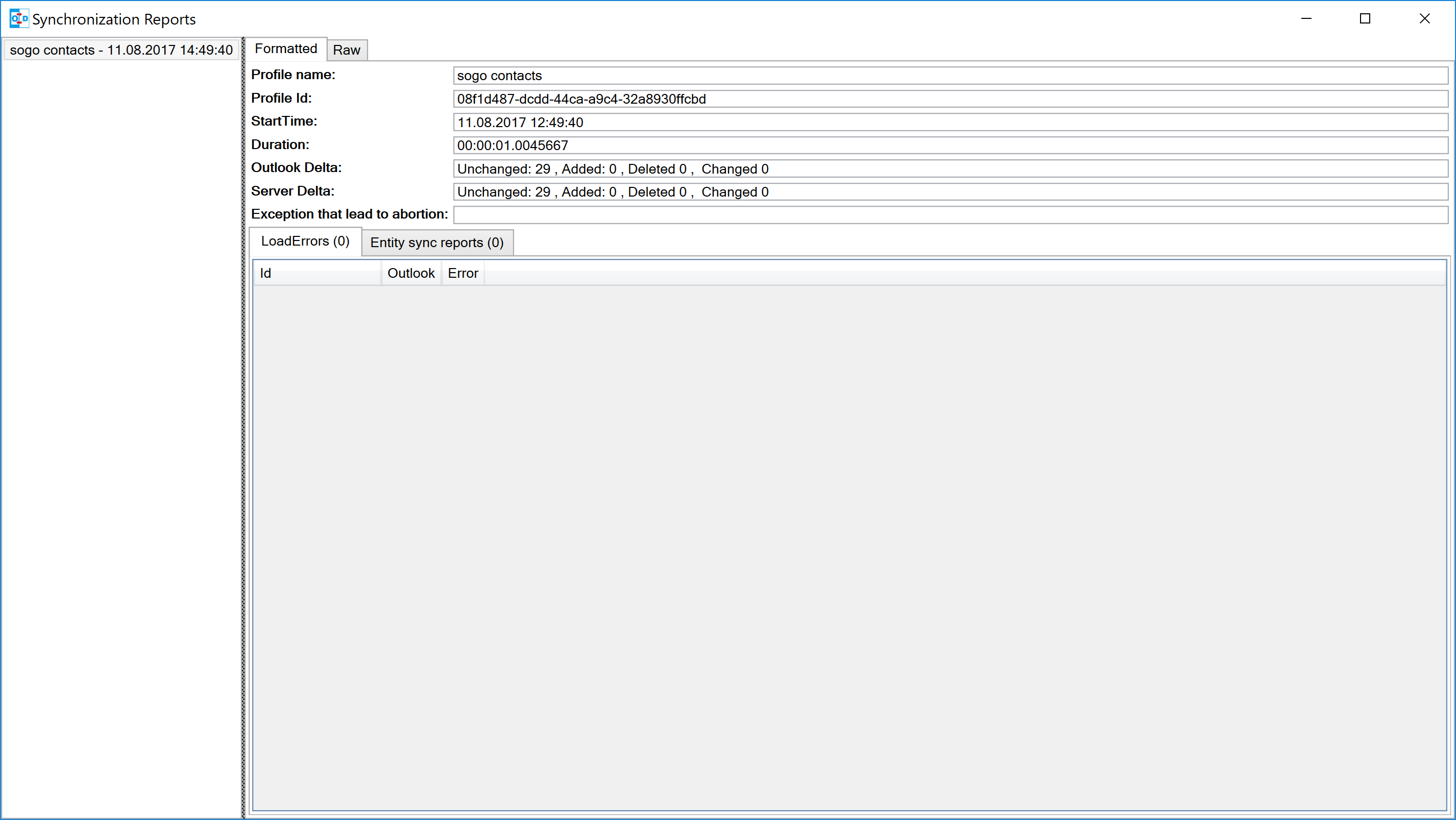 With the Status button in the CalDav Synchronizer Ribbon or via doubleclick from the TrayIcon you can access the status of the active sync profiles with their last sync run shown in minutes ago and the status OK, error, or warning. When clicking on the profile name you get to the according sync profile settings, when clicking the status icon, you can open the according sync report. When a sync run has any errors or warnings you will get a notification from the CalDav Synchronizer TrayIcon.
Options and state information is normally stored in the following folder:
C:\Users\<Your Username>\AppData\Local\CalDavSychronizer
If you activated Store data in roaming folder the location is changed to the following folder:
C:\Users\<Your Username>\AppData\Roaming\CalDavSychronizer
There is one options_<your outlook profile>.xml file which stores the options for each outlook profile.
For each sync profile there is a subfolder with state information stored in a relations.xml file after the inital sync. If you delete that folder, a fresh inital sync is performed. In the Synchronization profiles dialog a context menu is available in each profile (right click), which allows to open the cache directory and read the relations.xml file.
Each synchronization attempt is logged in the log.txt file. There you can find information about sync duration and the amount of added, deleted or modified events. Errors and Exceptions are logged aswell. You can view and clear the log file in General Options. There you can also change the log level from INFO to DEBUG.
In the install dir (The default is C:\Program Files (x86)\CalDavSynchronizer) you will find the app config file ` CalDavSynchronizer.dll.config`
In that xml file you can config timeout parameters and config options in the section appSettings
After changing parameters you have to restart Outlook.
wpfRenderModeSoftwareOnly: When set to true, turn off hardware acceleration and use Software Rendering only. Useful if you have issues with WPF and your graphics card driver.
You can also change defaults for some of the general options like CheckForNewVersions, StoreAppDatainRoamingFolder, IncludeCustomMessageClasses and SSL/TLS options, useful for All Users deployment, because general options are stored per user in the HKCU registry hive.
In the section system.net you can define proxy settings, e.g. use of NTLM credentials
<defaultProxy useDefaultCredentials="true">
</defaultProxy>
In this section you can also allow UnsafeHeaderParsing if the server sends invalid http headers.
<system.net>
    <settings>
        <servicePointManager expect100Continue="false" />
        <httpWebRequest useUnsafeHeaderParsing="true" />
    </settings>
</system.net>
This setting can also be enabled in the general options, starting with version 2.10.0.
In the section log4net you can define the log level for the main log (also possible in general options now). level value can be DEBUG or INFO, e.g.:
<root>
    <level value="DEBUG" />
    <appender-ref ref="MainLogAppender" />
</root>
System.Net.Http.HttpRequestException: Response status code does not indicate success: 401 (Unauthorized).

Wrong Username and/or Password provided.

System.Net.Http.HttpRequestException: An error occurred while sending the request. --→ System.Net.WebException: The underlying connection was closed: A connection that was expected to be kept alive was closed by the server.

The server has KeepAlive disabled. Use "Close connection after each request" in Network and proxy options.

System.Net.Http.HttpRequestException: An error occurred while sending the request. --→ System.Net.WebException: The server committed a protocol violation. Section=ResponseStatusLine

The server sends invalid headers. Enable the general option Enable useUnsafeHeaderParsing or the commented out option useUnsafeHeaderparsing in the app config file.